This post is part of Top Ten Tuesdays organised by ThatArtsyReaderGirl. Other contributions to this week's topic can be found here!
Villains. Oooh top ten villains. No one immediately springs to mind, so I'm going to have to have a sneaky look through my reading history on goodreads to get some inspiration…
Ok, I found some obvious excellent villains, and also some slightly more abstract ones. My criteria is: whatever I decide is a villain counts, and it could be because they are truly evil, or just quite camp with good hair.
Let's begin…
10) Teenagers in Getting the Buggers to Behave by Sue Cowley.
Hahaha I'm a teacher, but anyone can tell you that the villains in this story are teenagers. Lovely, lovely teenagers who prey on weakness like a pack. In all seriousness, if you know someone training to be a teacher, buy them this book. It is excellent and very useful!
9) Lucius Malfoy from Harry Potter by J. K. Rowling.
OK, it's a hair thing. I did once joke about taking a picture of Lucius to the hairdressers as my inspiration picture. I wasn't really joking, though I did think my hairdresser might already think I was a loon, so I didn't. I've also done Lucius Malfoy for a fancy dress party. He is an excellent camp, evil villain.
8) Cersei Lannister from A Song of Fire and Ice by George R. R. Martin.
Evil, incestuous, lady. Vicious and cruel and so power hungry. She's more evil in the books, TV series fans. I had to include a character from A Song of Fire and Ice, but so many are not straightforward villains. They do evil things then really nice things. Cersei is not complicated – she's a straight up evil villain.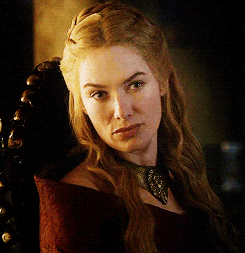 7) Voldemort from Harry Potter by J. K. Rowling.
Snake nose evil man. Stop being mean to Harry you absolute bastard!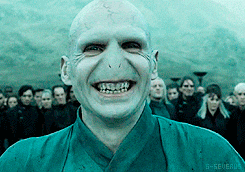 6) Al Binewski and 'Crystal' Lil from Geek Love by Katherine Dunn.
Ewwwwww is all I can say. Ewwwww. This book. OMG. Have you read it? I think you should, but beware, scenes will stay with you forever. FOREVER.
5) The Grand High Witch in The Witches by Roald Dahl.
See that nice old lady? Witch. Wants to kill all children. Can take her face off to reveal her hideous witch face underneath.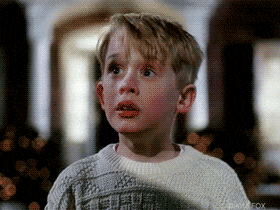 4) Sauron from The Lord of the Rings.
Big evil firey eye. Lives in a volcano. Totally evil. His house is called The Dark Tower, near Mount Doom. What more do you want? He's very horrible to little Hobbitses.
3) Amon Goeth in Schindler's Ark by Thomas Keneally.
Here to represent ALL Nazis and fascists. I could have gone for general fascism from On Tyranny by Timothy Snyder, but I decided to go with the character from Schindler's Ark who represents all Nazis and fascists.
2) Racism in The Immortal Life of Henrietta Lacks by Rebecca Skloot, Why I'm No Longer Talking to White People about Race by Reni Eddo-Lodge, Between the World and Me by Ta-Nehisi Coates, Beloved by Toni Morrison, The Underground Railroad by Colson Whitehead, The Hate U Give by Angie Thomas, The Good Immigrant ed. by Nikesh Shukla and so many more…
Bloody racism. This really ties for first place along with The Patriarchy. The dual scourge of the world. Fuck racism. Challenge it when you see it. Actively combat it whenever you can. Champion non-white writers and read their books. My book club are doing Why I'm No Longer Talking to White People About Race by Reni Eddo-Lodge in December and I'm just so happy more people will read that book.
1) The Patriarchy from Everyday Sexism by Laura Bates, The Descent of Man by Grayson Perry, Women and Power by Mary Beard, Delusions of Gender by Cordelia Fine, Men Explain Things to Me by Rebecca Solnit, Inferior by Angela Saini, A Room of One's Own by Virginia Woolf and… I could continue this until it is a very big list!
Yes, fuck the patriarchy. Biggest evil villain from any of the books I've read. And most pervasive villain across my reading.
*******************
And so there is my top ten villains from books I've read. Special shout out to the Tigers from In Watermelon Sugar by Richard Brautigan, because they might eat your family, but they are so polite about it! and also Woland from The Master and Margarita by Mikhail Bulgakov The actual devil. He does a magic show. He holds a ball. He's quite likeable. Final honorary mention is to Dr Frankenstein from Frankenstein by Mary Shelley. He's such an absolute bastard for abandoning his own creation. #teammonster
Who are your top villains?