This book will be interesting to fans of Buffy the Vampire Slayer and/or Angel. Though even as a huge Buffy fan, I found it a little too long and repetitive, and a bit too much of a love fest! I enjoyed it, but would have welcomed a bit more criticism. This is probably unfair of me though, because this book is an oral history and isn't set up as being critical essays. Maybe I just wish that was what I was reading instead!
For those that don't know, Buffy the Vampire Slayer is one of the best TV series ever. Fact. If you've never watched it, then you probably should get on it soon. It's generally lauded as a groundbreaking, feminist television series with a god-like genius creator, Joss Whedon.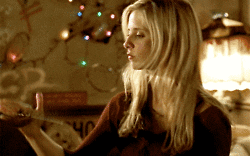 This is definitely the take of the book, and I love Buffy, I love it so much, but wow, I can love it and see its faults and the problems with Whedon.
Firstly, Buffy and Angel generally have a problem with characters of colour. There are hardly any of them, and the ones that do exist generally have unhappy endings. See this article for more detail. The book details things like the network not wanting a black character in the Scooby Gang because they didn't want to potentially show any interracial relationships. WTF?
Also, Whedon comes in for virtually no criticism at all – despite a completely horrendous account of how Charisma Carpenter was treated after she told them she was pregnant. The quotes with regard to this are awful. She was chastised and basically written off the show. How dare she get pregnant without thinking about the show. Seriously disturbing.
Look, there was a lot of anger about Charisma. I think probably mainly from Joss. It felt a little bit like we were all working our asses off to keep these people employed and it's, like, you have to take that into consideration before you make any life choices. You just do.

David Fury
Urgh.
A lot of his terrible behaviour is written off with a 'oh, but he's a genius, so it's ok'. It's not.
I find these anecdotes really terrible:
He loves to make jokes that make actors insecure; he thinks it's really funny. He loves to say, "By the way, you're fired," and then he gets a chuckle out of it. Then he says, "Every time I say that to an actor, they never laugh." That's because it's really not funny Joss.
What a dick!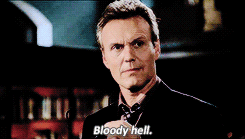 Still, I really love Buffy (Angel is alright too 🙂 ) and it's a worth a read if you are a bit of a die hard fan, and there is loads of interesting stories about making the show. You hear from lots of the main characters, the behind the scenes people, and minor characters. It gives a nice insight into the writing and production process.
There's a truly cringe worthy description of Joss Whedon's Shakespeare recital parties. It's presented as a fun thing, but oh god, it sounds so bad!
But back to the brilliance of Buffy:
As Buffy proves time and time again, patriarchy is ever present, but it cannot prevail. The seven seasons of the show depict a world in which institutional, familial, and individual-level patriarchy oppresses and disadvantages women, but it is something that can always be overcome. The fight to end this domination is no easy feat, as there is always a struggle to gain equality and independence. Buffy shows a realistic version of an ideal world: man may try to control women, but their efforts can and will be beaten.
Which is all great, but contrasted with the experiences of some of the actresses on the show, is majorly disappointing.